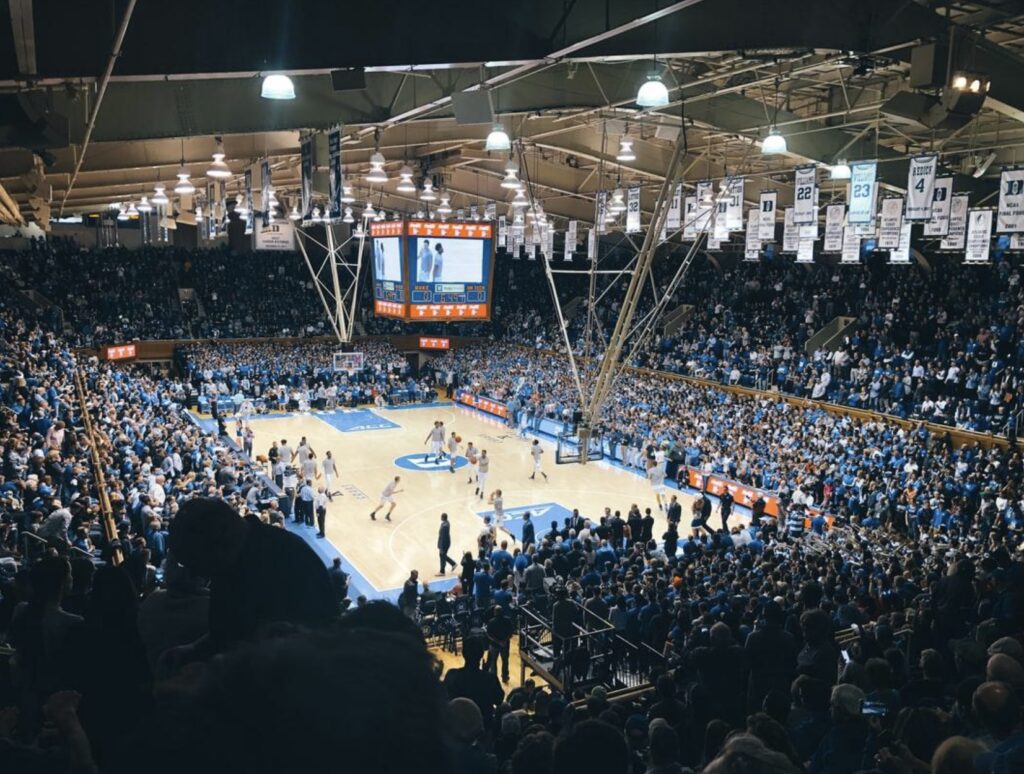 A native of North Carolina and a graduate of North Carolina State University, Domonique Rodgers has retained his passion for college sports, as well as for the school where his basketball career got its start.
His love for his alma mater is what inspired Rodgers to create a website dedicated to showcasing the best of what the school has to offer, particularly in the arena of college sports. With 23 varsity teams, there's always something exciting happening in campus athletics.
The Campus
The largest university in the Carolinas, North Carolina State University was founded in 1887 as a land-grant college.
The present student enrollment is around 35,000, and the university employs over 8,000 people. It serves primarily as a research university and functions, along with the University of North Carolina at Chapel Hill and Duke University, as an integral part of the North Carolina university system's renowned Research Triangle. NC State offers nearly 100 majors and 120 minors, including Communication and Media Studies, in which Rodgers earned his BA in 2010.
The campus covers 2,137 acres and is located in North Carolina's capital city, Raleigh. With over 700 student organizations, there are plenty of opportunities for students to enjoy extracurricular activities, including plenty of multicultural and special interest groups.
Campus Athletics
Collectively known as "The Wolfpack," NC State teams range from traditional football, basketball, and track and field teams to golf and rifle teams. More than 550 students at any given time receive athletic scholarships to study at NC State, making for a well-rounded student body dedicated to both athletics and education.
Gameday facilities on campus include:● ‌Reynolds Coliseum● ‌Carter-Finley Stadium● ‌PNC Arena● ‌Lonnie Poole Golf Course● ‌Willis R. Casey Aquatics Center● ‌Doak Field at Dail Park● ‌Dail Soccer Field & Track Complex● ‌Dail Softball Stadium● ‌J. W. Isenhour Tennis Center
‌
Students are using the campus's athletic culture to their advantage too. NC State athletic teams of all kinds are recognized as powerhouses in college sports. A few of their recent accomplishments include:
‌● The women's basketball team won the 2020 ACC Championship● ‌The men's diving and swimming team won its sixth ACC Championship in a row● ‌The wrestling team won the ACC Championship for 2020
‌
‌And these are just a small sampling of the accomplishments of NC State athletic teams in recent history. Stay tuned for future blog posts about some of the all-time highlights of NC State athletics.
Some Wolfpack Historical Moments
The history of NC State athletics isn't just about the wins though — it's about the history that has made the school what it is. Here are just a few key moments in Wolfpack history that have helped define the school's culture.
Origins of the Wolfpack
One of the early stories about how the Wolfpack name was adopted for the university's football team involves a former student who complained in writing to the school's newspaper that the team was "unruly as a pack of wolves." The nickname stuck, and the students proudly embraced it as a symbol of fierce love and loyalty, as well as a metaphor for the way wolves in the wild work together for the good of the entire pack.
The first football game
The first athletic event at NC State was a football game in the year 1892 against the Raleigh Male Academy.
At this time, NC State was called North Carolina Agricultural and Mechanical College. The team had no official coach — professors who admittedly knew very little about the game of football were conscripted to coach the game. Nonetheless, North Carolina Agricultural and Mechanical College managed to beat the Raleigh Male Academy with a score of 12 to six.
The first major conference football title
Jack McDowell, who went on to earn induction in the College Football Hall of Fame, led the school to its first major conference football title in the year 1927.
Everett Case comes on board
Affectionately known as "The Gray Fox," Everett Case made a national name for himself as a basketball coach after taking on coaching duties following his discharge from the Navy in 1946. He coached NC State basketball for 18 years, retiring in 1962 after leading the team to many victories and championships.
Kay Yow enters the scene
Kay Yow joined forces with NC State's women's athletics in the year 1975. The North Carolina native and member of the Naismith Memorial Hall of Fame was hired to initiate the formation of women's volleyball, basketball, and softball teams.
These teams went on to earn a significant number of ACC titles, and the women's basketball team won a gold medal in the Olympics in the year 1988. Following a breast cancer diagnosis, she continued to work with the women's sports teams at NC State until just months before her death in 2009.
The Wolfpack Mascots
The Wolfpack name became official in the year 1947. During that same year, students brought a live timber wolf to many football games as a symbol of school pride. In the 1960s, students tried to bring back this tradition by investing in what they believed to be another timber wolf to use as a mascot, but it was discovered later that the animal was a coyote.
The school eventually gave up trying to have a live animal as a mascot and turned instead to other students wearing wolf costumes. During the 1950s, cheerleaders began the colorful custom of dressing up in wolf costumes when cheering on their team. In the 80s, this tradition morphed into the mascots Mr. and Ms. Wuf, who supported the men's and women's teams at games. The wolf mascots were married at Reynolds Stadium in a mock ceremony prior to a basketball game.
In 2010, a husky by the name of Tuffy took up the reins as NC State's new mascot and has remained a staple of NC State ever since.
A Well-Rounded School
‌NC State provides a great combination of serious academic excellence, a wide range of scholastic programs, and opportunities to participate in a variety of sports at the college level, where students learn the fine points of sportsmanship and teamwork. These experiences have served Domonique Rodgers well in his post-athletic career, and he hopes to use this blog to share more about the best qualities of NC State athletics, and the impact they've had on the person he is today.